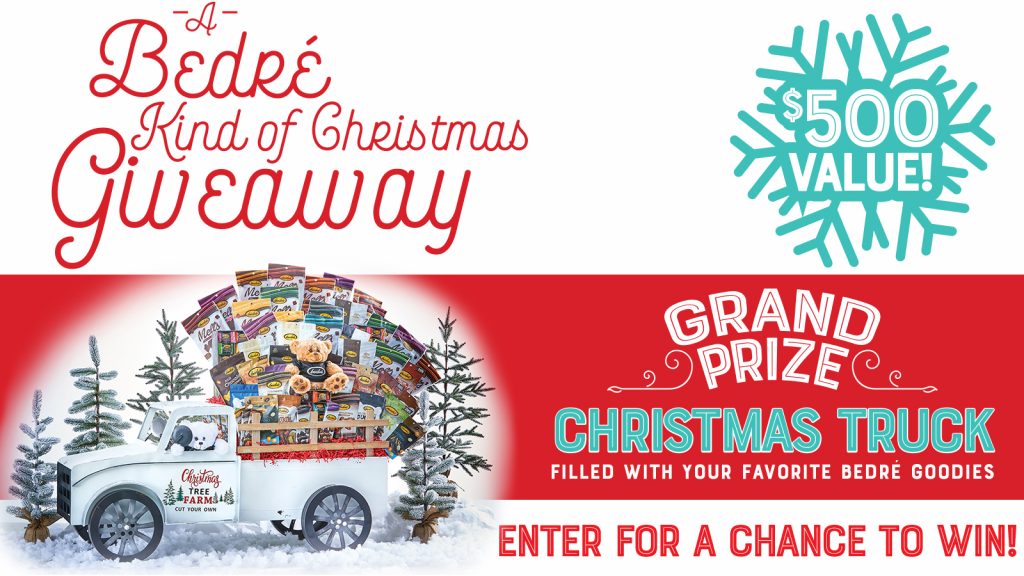 ENTER TO WIN
For your chance to win one of the exciting prizes, simply fill out the form below. All winners will be randomly selected and contacted on December 3. Please see the official rules below for more details and eligibility.

Bedré Fine Chocolate ("Bedré") is a governmental enterprise of the Chickasaw Nation ("Nation"), a federally recognized sovereign and self-governing American Indian tribe. Bedré will conduct the "A Bedré Kind of Christmas" promotion substantially as described in these Official Rules.
This promotion is open to persons 18 years of age or older as of the date entry. The following individuals or entities are not eligible to participate in this promotion:

Employees of Bedré and their immediate family members (spouses, parents, siblings, and children); and
Employees of the Nation prohibited from participating as set forth by any of the Nation's policies, regulations, or laws.

By participating in this promotion, Entrants agree to abide by these Official Rules. Failure of an Entrant to comply with these Official Rules may result in disqualification and forfeiture of any prizes.
This promotion begins on Monday, October 16, 2023, and ends on Saturday, December 2, 2023. During this period, persons may enter the promotion in the following ways:

Submit an entry at Bedré Fine Chocolate Retail Store, limited to once daily.

Submit a one-time entry online at BedréChocolates.com.

No purchase is necessary to enter. Eligible entries must have complete information and be legible. Entrants who submit multiple entries are only eligible to win one prize during the promotion. The total number of eligible entries determines the odds of winning.
The prizes shall be determined solely by Bedré. There shall be no cash or other prize substitution permitted except at Bedré's discretion. Available prizes include: One (1) winner will receive the Grand Prize of a Christmas Truck (valued at $500); One (1) winner will receive a Large Gift Basket (valued at $250); Four (4) winners will receive a Bedré Fondue Pot (valued at $23.99); Four (4) winners will receive a Bedré Ice Bucket (valued at $28.99); Four (4) winners will receive a Bedré Blanket (valued at $47.99); Four (4) winners will receive a Bedré Beanie (valued at $12.99); Four (4) winners will receive a Bedré Stuffed Bear (valued at $13.99); and Four (4) winners will receive a Bedré Winter Scarf (valued at $20.99).
On Sunday, December 3, 2023, winners will be selected by Bedré in a random drawing from among all eligible entries received during the promotional period.

Bedré's manual drawing system will be the sole determinant of prize winners.

A Bedré representative will contact the winners via telephone or email. If a winner does not respond within 48 hours the prize will be forfeited and an alternate winner may be selected.

Winners may pick up their prize at the Bedré Retail Store in Davis or have the prize shipped to them at Bedré's expense.

Winners are responsible for all applicable taxes.

All costs, taxes, fees, and expenses or any customs or import charges associated with any element of any prize not specifically addressed above are the sole responsibility of the respective winners. The specifics of all aforementioned elements of any prizes in this contest shall be solely determined by Bedré. Some restrictions may apply. Prizes cannot be transferred, substituted or redeemed for cash.
By submitting an entry to this promotion Entrants consent to being placed on a mailing list to receive promotional and other materials from Bedré. You may unsubscribe at any time by clicking the link provided in any email you receive from Bedré.
By accepting a prize, selected winners grant permission for the Nation to use their likeness and name for publicity or promotional uses without compensation or notice. Winners agree to sign a publicity release form if requested by the Nation.
By participating in this promotion, Entrants agree that any dispute not covered by these Official Rules will be resolved in a manner deemed by the Nation to be the fairest to all concerned. Any such decision shall be final and binding on all Entrants. In addition, Bedré reserves the right to void any entry, and/or change, cancel or modify this promotion at any time without notice.
By participating in this promotion, Entrants affirmatively consent to the exclusive jurisdiction of the Nation, its regulatory bodies and courts without limit to time or event. This promotion shall be governed by the guidelines, resolutions, and ordinances of the Nation. State law shall not be applicable, nor shall any disputes be subject to any authority outside the Nation.